Fashion Through the Decades – 1920s

   The 1920's was a breaking point for fashion. After World War 1, women desired a more comfortable lifestyle and clothes that reflected this lifestyle. 1920's fashion was made for the next generation who stopped using corsets and started showing off their dazzling legs. A new trend started which included loose fitting clothes instead of girly looks which led women to look into new hobbies and the start of the fight for women's rights.
    In the first two years of 1920's fashion was very similar to that of the late  Edwardian period, with natural waistlines, full sleeves and ankle length dresses. The dresses were then made into something that looked like a tube shaped sack, which reached about mid-calf. The dresses got shorter and shorter through the years to the point where most dresses were made below the knee length. Teens sometimes started new trends with casual and sporty clothing. Dresses often had wide open boat necks or V-necklines, the sleeves were usually long or at least elbow length and sleeveless dresses were only acceptable in the evenings. Most of the time dresses had vertical features which included dangling necklaces, a row of buttons, vertical plates and thin collars to make the appearance of a long and lean figure. At home women wore dresses called "house dresses," these were made of small cotton prints, gingham checks, plaid and vertical stripes lined with ruffles or other details. If women were to run an errand or go out with a friend they would wear a color dress with a matching jacket or a wool two piece set and to church they would wear their best clothes with matching hats, gloves and bag. For evening events they would wear dresses with or without sleeves, with detailed fringes and sequences.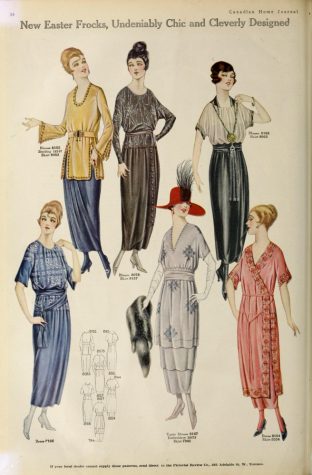 While wearing dresses was more popular among women mixing and matching pieces soon became popular. Women would wear pleated skirts paired with collared blouses and a matching jacket during the spring and summer. In the early 20s sheer blouses with beautiful embroidery and folk art designs became quite popular. They were worn with long straight skirts that were ankle-length. A tunic top with a thin belt also became a popular trend. Collared and button down shirts/blouses took over all the other trends in the late 1920s. They were worn hanging out of the skirt never tucked in. Pullover sweaters, cardigan sweaters and sweater vests were worn over blouses which was part of the typical sporty look. The sweaters came in jewel tones, wide stripes and detailed prints.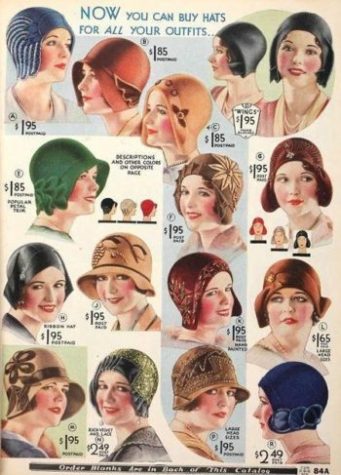 Headwear was very important to a woman's everyday outfit. There were several different styles such as bonnets and a close fitting hat called a felt helmet. Many hats were decorated with silk ribbons, buttons, bows, pins and more. People also wore big, glorious hats when they wanted to be the center of attention. They were made so spectacularly and beautifully that they were meant to be seen and appreciated. There were endless options and they were a must accessory.
   The coats that women wore in the 1920's were mostly neutral colors such as navy blues and browns. It was extremely popular to use animal fur to line the inside of the coats so there was a wide variety of different first to choose from. In the early 1920's, most costs were very simple and didn't have any eye-catching details but bows quickly started to become popular. Depending on the women's price range, she could get a bow made of wool velour or fur. An exceptionally nice coat might be made of an all-wool Venise Bolivia, with a fancy bow and buckle that fastened in front of the left hip. Most coats that were worn were pretty long, but short short sport jacquettes were quickly gaining popularity. Just like the long coats, popular choices for the short jacquettes were neutral colors such as tans, silverene (silver/gray blended with dark markings) and a color called Muskratine (a tan shade with brown markings to closely resemble the natural muskrat). There were many, many different options for women to choose from, and the various styles, prices, and material made it easily accessible for women when it came to picking out their overcoat.
     In the 1920's people wore all different kinds of shoes. Women wore shoes that were very pointed and became square shaped around the late 1920's. Some of the different kinds of shoes that they wore were called pointed toe shoes, almond toe shoes, and square toe shoes and were mostly shades of 
    During the 1920 men wore many different kinds of clothes. One of the most strong fashion statements during the Harlem renaissance was the Zoot Suit. Many people wore them in places like dance halls so men that did swing dances were able to move around easier when they danced. The Zoot Suit was a jazzy style suit that mainly African Americans, Italian Americans, and Latinos along with trousers under it.  During that time men also wore suspenders which are (Y) shaped straps with metal clips to hold up pants and men also started wearing sports wear and casual clothes for the first time.
   In conclusion dresses were an essential to women's clothing; they had all different shapes, patterns, design and fabrics. Women loved to mix and match tops and bottoms. Sheer blouses with embroidery and folk art design were all the rave.Women's headwear was a necessity in every woman's wardrobe and there were endless options to choose from. There were many different options/styles, so there was always something for everyone. For women's coats, the long overcoats were always popular and widely worn. The short sport jacquettes were just gaining popularity at the beginning of the 1920's, but were greatly liked for their convenience and functionality. Once again, there were many different varieties of long and short coats to match any woman's needs. Mens wear, shoes, and other clothing were very different during that time then they are now, but it is still interesting to look at what everyday people used to wear back then.