Sunlight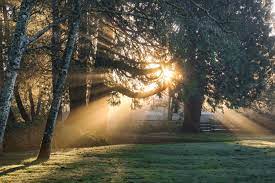 Sunlight
noun
We are birthed from darkness turning to light. A symphony of fire and blazing radiance converging into elements and atoms and consciousness. Angels making a home on the ground, glowing halos still visible if you squint your eyes. Energy taking shape as people. Living and growing and dying and loving, never gone just taking different forms.

Our land fell into darkness. An endless night, muffling the light, muffling our voices, muffling our hope. You scream, but the silence clamps a hand over your mouth. Silence and darkness seem never-ending. In the shadows you see fallen angels that now look a little more like demons. Darkness is nobody's friend, no one's ally. This absence of light, absence of hope seems like it might go on forever.

The night is blooming into a lavender and magenta dawn, swirls of color in the sky, a flower unfurling it's petals to the sun. The symphony of life comes back, energy and atoms buzzing with a life reborn. The sun rising into the sky, the world basking in its rays of light and hope. 

The day is new and bright and you think;




    Maybe we're going to be okay.